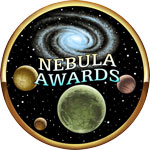 The Nebula Awards® are voted on, and presented by, active members of SFWA. The awards were announced at the Nebula Awards® Banquet held at the Hilton Cocoa Beach Oceanfront the evening of May 15.
Novel
The Windup Girl by Paolo Bacigalupi
Novella
The Women of Nell Gwynne's by Kage Baker
Novelette
"Sinner, Baker, Fabulist, Priest; Red Mask, Black Mask, Gentleman, Beast," by Eugie Foster (Interzone, Feb. 2009)
Short Story
"Spar," by Kij Johnson (Clarkesworld, Oct. 2009)
Ray Bradbury Award
District 9, Neill Blomkamp and Terri Tatchell
Andre Norton Award
The Girl Who Circumnavigated Fairyland in a Ship of Her Own Making by Catherynne M. Valente
Additional Honors
During the ceremonies, Joe Haldeman was honored as the next Damon Knight Grand Master, while Neal Barrett, Jr., was honored as Author Emeritus. Vonda N. McIntyre and Keith Stokes were honored with SFWA Service Awards while the SFWA Solstice Award, bestowed upon individuals who have made a significant impact on the science fiction or fantasy landscape, was presented to Tom Doherty, Terri Windling and the late Donald A. Wollheim.