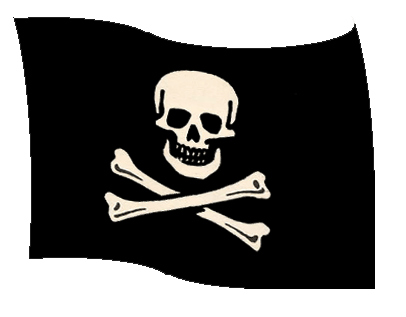 Avast! Today be Talk Like A Pirate Day! Celebrate t' holiday in swash-buckling style by spying the original Talk Like A Pirate Day website, where ye can be learning some pirate lingo to prepare ye for parlay with other bilge rats who be celebrating. Ye should take a gander at me list of Pirate-themed books, where ye might find a beauty of a story. Grab ye some (non-alcoholic) grog and a book, show ye pirate pride, and don't be a land lubber this September 19!
Pirate Curse ~ by Kai Meyer: In a place similar to the 1706 Caribbean, two fourteen-year-old "polliwogs"–humans who can walk on water–rely on a mysterious figure known as the Ghost Trader and a band of pirates to help them escape from the evil that is chasing them.
Pirates!: the true and remarkable adventures of Minerva Sharpe and Nancy Kington, female pirate ~ by Celia Ress: In 1722, after arriving with her brother at the family's Jamaican plantation where she is to be married off, sixteen-year-old Nancy Kington escapes with her slave friend, Minerva Sharpe, and together they become pirates traveling the world in search of treasure.
The Pirate Captain's Daughter ~ by Eve Bunting: Upon her mother's death, fifteen-year-old Catherine puts her courage and strength to the test by disguising herself as a boy to join her father, a pirate captain, on a ship whose crew includes men who are trying to steal a treasure from him.
To Catch A Pirate ~ by Jade Parker: When Annalisa Townsend seeks revenge on the pirates who stole her father's treasure a year before, one scallywag, James Sterling, who stole a kiss on their first meeting, threatens to now also steal her heart.
Star-Crossed ~ by Linda Collison: Having been discovered as a stowaway as she tries to reach Barbados in 1760 to claim her father's estate, teenaged English orphan Patricia Kelley struggles to survive by learning to be a ship's doctor and by disguising herself as a man when necessary. Includes glossary of nautical terms.
The Outcasts ~ by John Flanagan: Skandian outcasts Hal, Stig, and others do battle at sea against the Wolves and the Sharks, in the ultimate race across icy waters where not everyone thinks of the competition as playing.
Everlasting ~ by Angie Frazier: In 1855, seventeen-year-old Camille sets out from San Francisco, California, on her last sea voyage before entering a loveless marriage, but when her father's ship is destroyed, she and a friend embark on a cross-Australian quest to find her long-lost mother who holds a map to a magical stone.
In the belly of the bloodhound : being an account of a particularly peculiar adventure in the life of Jacky Faber ~ by L.A. Meyer: Jacky Faber and her classmates at the Lawson Peabody School for Young Girls in Boston are kidnapped while on a school outing and transported in the hold of a slave ship bound for the slave markets of North Africa
Steel ~ by Carrie Vaughn: When Jill, a competitive high school fencer, goes with her family on vacation to the Bahamas, she's magically transported to an early-eighteenth-century pirate ship in the middle of the ocean.
Demons of the Ocean ~ by Justin Somper: When twins Connor and Grace's ship is wrecked in a storm and Connor is rescued by pirates, he believes that Grace has been taken aboard the mythical Vampirate's ship, and he is determined to find her.