9 Ways to Fit More Reading Into Your Day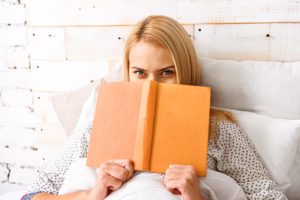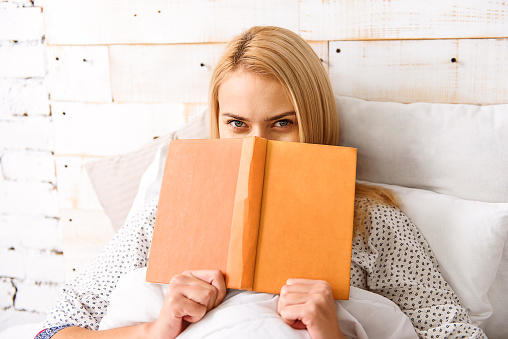 Want to increase your reading time? We all have hectic lives but even the busiest of schedules allows for time with a book. You can have more reading; you just need to know where to squeeze in that time.
According to PEW Internet Research, almost 25% of Americans didn't read a single book last year.
Use Your Downtime for Reading
1. Download a reading app like Nook or Kindle to your phone. Now whenever you've got some down time like in a grocery store line or at a doctor's office, you can read. Pick a book that's easy to read just a page or two like the humor essays by David Sedaris in Me Talk Pretty One Day or a book of poetry, like National Book Award winner Incarnadine by Mary Szybist.
2. You could also have a purse/backpack book, perfect for reading when you're waiting. Whether it's picking up the kids from practice or waiting to pick up your carryout order, you can probably read a couple of pages. It's the perfect distraction from the frustration of waiting. Books that are quickreads are perfect for this.
Don't Read Undesirables
3. Read books that you want to read not books that you feel obligated to read. I'm sure we've all joined a book club or gotten a recommendation from a friend and been frustrated because we just can't get into the book. Don't sweat it! Give yourself permission to not finish the book and move onto something that you truly are interested in reading.
[bctt tweet="Not every book is for every person."]
In most cases, if you haven't been drawn into a book by page 50, it's just not going to happen. Put the book aside and start something new. Sometimes that book just isn't right for your mood, the time of day, or other extenuating factors. If it's something you really want to read, give it a couple of weeks and try it again.
"If you're fifty years of age or younger, give a book fifty pages before you decide to commit to reading it or give it up.  If you're over fifty, which is when time gets even shorter, subtract your age from 100—the result is the number of pages you should read before making your decision to stay with it or quit," Nancy Pearl
Start & Finish Your Day Reading
4. Get into the habit of grabbing a book and reading for the last 10 or so minutes of the day before sleeping. You'll give yourself some time to unwind and relax. Just don't choose something that's going to thoroughly suck you in so you end up reading all night instead of sleeping (which is easy to do!). Definitely choose a gentle read for this, so that it does relax you.
5 Childhood Classics Worth (Re)Reading
5. If you're too tired at the end of your day to focus on a book, try reading for a few minutes in the morning which is a gentle way to ease into your day. Or read for the last few minutes of your lunch break.
Listen to a Good Book
6. Start listening to audiobooks. You can listen in the car, at the gym, doing yard work. Choose a kids' book on audio and listen to it with your kids or grandkids. It's a great conversation starter and an easy way to share a book with them. And it might help avoid a few of those "He touched me first!" arguments in the backseat.
7. Read to your kids or grandkids! Once kids reach a certain age, story time just isn't a priority any longer. Just because kids can read to themselves doesn't mean they don't want to be read to as well. Besides, some stories just beg to be read aloud. Not sure what to choose? Take a look at Jim Trelease's Read-Aloud Handbook for suggestions.
"The single most important activity for building the knowledge required for eventual success in reading is reading aloud to children." Becoming a Nation of Readers

8. Kids aren't the only ones who enjoy being read to. Get in the habit of sharing amusing or well-written or informative passages from what you're reading with your spouse, friends, even your cat. It's a great way to share books, especially if someone has very different reading tastes than you.
9. Keep a book in the bathroom. It always feels a touch decadent to be able to soak in the bath with the latest bestseller. Just don't take a hardcover or a library book in there! Unwind with the latest Gone Girl readalike, Girl on a Train by Paula Hawkins.
What's your favorite way to squeeze in some extra reading time?